Keeler Tavern Museum Owner History
Cass Gilbert & The Gilbert Family
Residents from 1907-1957
After faithfully managing her family's home and business, Anna Marie Resseguie decided to cede ownership to someone interested in treasuring and restoring the property. Cass Gilbert was a wealthy, talented and successful architect in New York and was looking for a summer property in the country. In 1907, both Anna Marie and Cass Gilbert satisfied their mutual quests.
Cass Gilbert on the left, and his wife Julia Gilbert
Cass Gilbert and his wife, Julia Finch Gilbert, purchased the tavern and were pleased to inherit many of the home's original furnishings as part of the sale. Anna Marie died in 1913 while residing in the Bailey Inn near her former home.
Once the Gilbert family took up residence, the nickname born nearly 200 years earlier was revived: "Cannonball House." The Gilberts wasted no time modernizing the home by installing new bathrooms, central heating, and electricity. They erected a large wing over the 19th century basement and added a new kitchen, pantry, and large dining room with French doors that opened out to a patio covered in grapevines on the ground floor. On the second floor, three new bedrooms and two new bathrooms. In the basement, they built a laundry room complete with wash tubs.
Cass Gilbert in the garden
Cass Gilbert also built The Barn in 1907. The mid 19th century two-story cottage was moved from its original site near the tavern to its present location. He added a wing to the cottage, which includes one bedroom and bathroom, as the chauffer's room, although it was also used for guests. In present day, it is the home of the Keeler Tavern Museum's caretaker.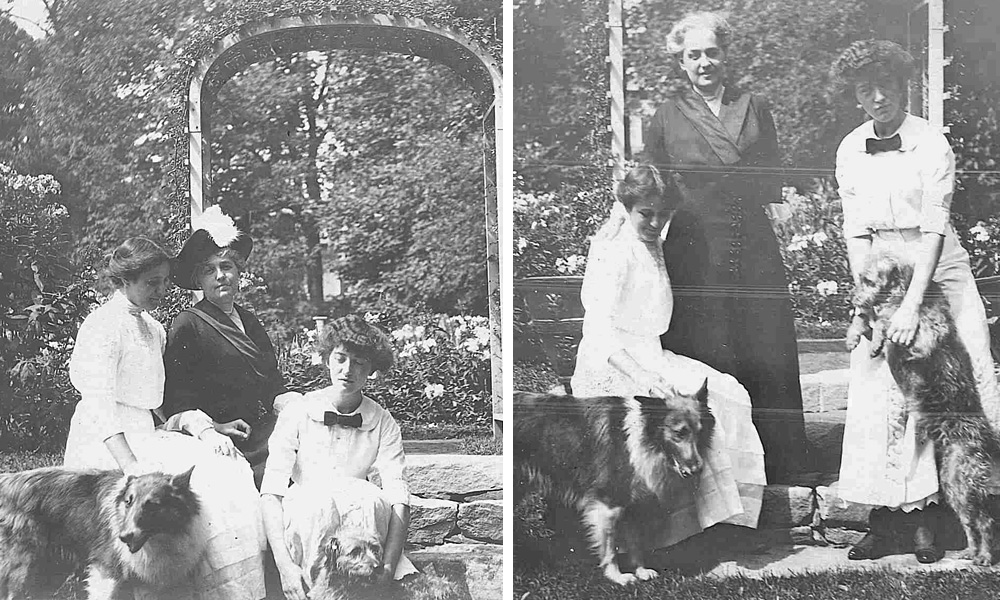 Julia Gilbert and her children Emily and Julia in the garden, 1912
As a gesture of kindness and goodwill to the town of Ridgefield, Cass Gilbert designed and donated the classic fountain that has graced the intersection of Main Street and West Lane since 1916.
Cass Gilbert died suddenly in 1934 while traveling abroad. The Gilbert family maintained residence in the Cannonball House until Julia Finch Gilbert's death in 1952. Eldest daughter Emily sold the property to a preservation-minded couple in 1957, and they, in turn, assisted in its 1966 acquisition by the Keeler Tavern Preservation Society, which has protected and communicated its rich and storied history on behalf of the Town of Ridgefield.