Meet the Playwrights, Cast, and Crew of SISTERS
August 19, 2020
We are pleased to introduce to you the women and men behind the play, SISTERS, scheduled for a live and livestreamed performance at the Garden House at Keeler Tavern Museum & History Center on August 30, 2020. Purchase tickets HERE.
SISTERS is a collaboration between two playwrights, Joanne Hudson and Royal Shirée, that seeks to shed light on race and privilege in America through the fictional story of two real women, one white and one Black – Anna Marie Resseguie and Phillis DuBois – who lived in and ran the Resseguie Hotel in Ridgefield, Connecticut before, during, and after the Civil War.
Having never met, other than online, the two playwrights collaborated in 2017 via Skype and wrote scenes back and forth to discuss (through the characters) what it might be like for each of them to live in those times and how some things have not much changed. The play deals with issues of ownership and the economics of being a woman, as well as a freewoman of color, under a system of slavery.
The Playwrights
Royal Shirée's work has been produced by Lynchburg College, Randolph College, Waterworks Players Theatre, Leading Ladies NY, Downtown Urban Theater Festival
NY, Live Arts Charlottesville, and a professional reading by Virginia Playwrights andScreenwriters Initiative. Her solo show, Clippings, has been performed throughout Virginia and in New York. MOJOAA Performing Arts Company performed her piece, Victory, in
"Reclamation, 'Female Voices of Color." Her ten-minute plays have been produced coast-to-coast.
Shirée was nominated for the "James River Council Arts and Humanities', Celebrate Diversity:Black Artists in Lynchburg." Shirée is a former board member and producer/director for Riverviews Artspace where she created "Perspective Presents," training non-professional and novice storytellers to perform true stories interpreted from themes. She currently sits on the board at Hamner Theatre and is a member of the Central Virginia Theatre Alliance. She earned a hybrid English M.A. in Scholarship and Creative Writing from Lynchburg College 2012 and a M.F.A. in Playwriting from Hollins University 2013; she is a Fellow at the Virginia Center for the Creative Arts and a Dramatists Guild member.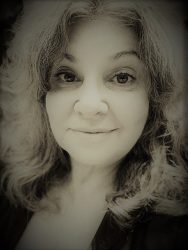 Joanne Hudson's plays have been commissioned, developed, and produced by Huntington Theatre Co., Boston Playwrights Theatre, HERE Arts Center, The Collective Unconscious, Z-Space, East River Commedia, SIPA (School of International Public Affairs at Columbia University), Keeler Tavern Museum, Iceland Fulbright, Vestmannaeyjar Iceland Library, and others. Her plays have been produced throughout the U.S., most often in New York City.
As a Fulbright Scholar in creative writing, Hudson traveled to Iceland to write a play about a scientist who loses her ethics and finds her humanity, "unbidden," now included in the literature of the Westmann Islands. She holds an MFA in Playwriting from Columbia University School of the Arts where she was the recipient of the Brander Matthews Theatre Scholarship. She has taught acting and playwriting to middle & high school students in Harlem & the Bronx, as well as Bedford Hills and Katonah, NY. She is the founder of the Ridgefield Independent Film Festival (RIFF) where she serves on the advisory board.
Director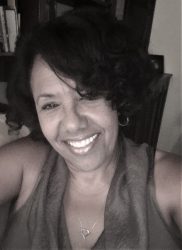 A native of Minneapolis, MN, Kimberly Wilson first pursued theater studying and performing at the Minneapolis Children's Theatre and in local community and professional theaters. She was a founding acting company member of Mixed Blood Theater in Minneapolis, while also performing at the renowned Penumbra Theater in St. Paul. After graduating from Breck School, Kimberly studied Fine Arts at Howard University in Washington, D.C.  After college, Kimberly returned home and continued performing in national television commercials, stage, and touring productions.
In 1992, Kimberly moved from Minneapolis to Connecticut and has made it her home ever since. In addition to her other talents and passions, she continued performing, recently in Glory Road, A Civil War Christmas, and Ragtime the Musical.
In 2012, Kimberly wrote her own musical one-woman show A Journey, and has been performing in theaters, schools, universities, churches, libraries, historical societies, and community organizations throughout the country. In 2016, She was awarded the Best Playwright Award for A Journey at the 2016 Atlanta Black Theatre Festival.
A Westport resident for the past 15 years, Kimberly is a loving mother and mother-in-law to her daughter Clorasteen Wilson and her daughter's husband Garrett Gobillot. She is a long-time member of Norfield Congregational Church in Weston, and serves on its Deacon Board, Music Committee, and Leader of the Shepherds. Kimberly is a founding member SurviveOARS rowing team at Saugatuck Rowing Club in Westport. Kimberly is also a Realtor with Weichert, Realtors®-Madison and Post in Westport.
In 2016, Kimberly was invited to read as Frederick Douglass in the first public reading of SISTERS by Joanne Hudson & Royal Shirèe here at the Keeler Tavern Museum & History. It has been great working with this wonderful team of actors, choreographer and videographer, side-by-side with Producer and Executive Director, Hildegard Grob and her staff, board, and volunteers to now bring this historical and timely  message to the Ridgefield community.
SISTERS by Joanne Hudson & Royal Shirèe exposes the raw disconnects between sisters whose 83 year relationship (1830-1913) was forever changed and affected by both of them living under the same roof, in the same community, yet under completely different sets of rules – rules and boundaries – based on the color of their skin. This message, for many black people and people of color, still rings true to this very day!
Kimberly Wilson / www.thewilsonproductions.com
Choreographer

Sharece M. Sellem  is a native of Hartford, Connecticut. She is a playwright, choreographer, director, and performing arts instructor based out of New Haven. She was trained by American Intercontinental University's Media Production Program, Headlong Performance Institute of Bryn Mawr College in Pennsylvania, and Yale University's Practical Approach to Directing Summer Program 2014.
Sharece's resume includes performances at Bregamos Community Theater, Long Wharf Theatre, Pride Arts Center of Chicago, Charter Oak Cultural Center, Carriage House Theater, Illinois Voices Theatre, Norwich Arts Center, University of California San Diego, and more.
Sharece M. Sellem is the founder of Vintage Soul Productions LLC.  For more information please visit her website, www.VintageSoulProductions.com
Gregg Cork, actor / Frederick Douglass
Native of Washington, D.C., Gregg Cork is a photographer and spoken word producer. He has written and performed in plays for holiday and historical events and celebrations for public schools and religious organizations.
Gregg Cork has also presented numerous staged readings as Dr. Martin Luther King Jr. and Frederick Douglass.

Valerie Brookshire, actor / Phillis Dubois

A native of New Haven, Connecticut, Valerie Brookshire strengthened her acting chops under the direction of celebrity acting coach, Melvin Williams.
Valerie has performed in a number of off broadway stage productions in NYC including "Hopscotch" and "Trifles."
Other stage credits include "Matthew's Rising" and "Daisies on Harlem's Doorstep", both written by SISTERS choreographer, Sharece M. Sellem. Valerie also performed in "Her Time" directed by Steve Driffin.
TV credits include CBS' "Blue Bloods" and various TV shows on the Investigation Discovery Network!
Catherine Luciani, actor / Anna Marie Resseguie
Native of Fairfield, Connecticut, Catherine Luciani is thrilled to bring to life Anna Marie Ressigue in the long-awaited production of SISTERS by Joanne Hudson & Royal Shirèe. She is proud to finally share this amazing story that is more relevant now than ever before.
Prior acting credits include – NY: All About Image/We Are The Elite (The Assistant/NY Fringe Festival); Mrs. President (Ms. Clark/Manhattan Rep); Village, My Home (Native Dweller/DreamUp Festival!); Regional: Julius Caesar (Calpurnia/Shakespeare on the Green); The Fall River Axe Murders (Ensemble Puppeteer/imaginarybeasts); The Independents (Mary Cassatt/CurtainCall Theater). Education: Hamilton College, London Dramatic Academy.
Follow @catherineluciani