Free Museum Open House and Fun Activities for All Ages at Our July 4th Celebration
June 26, 2023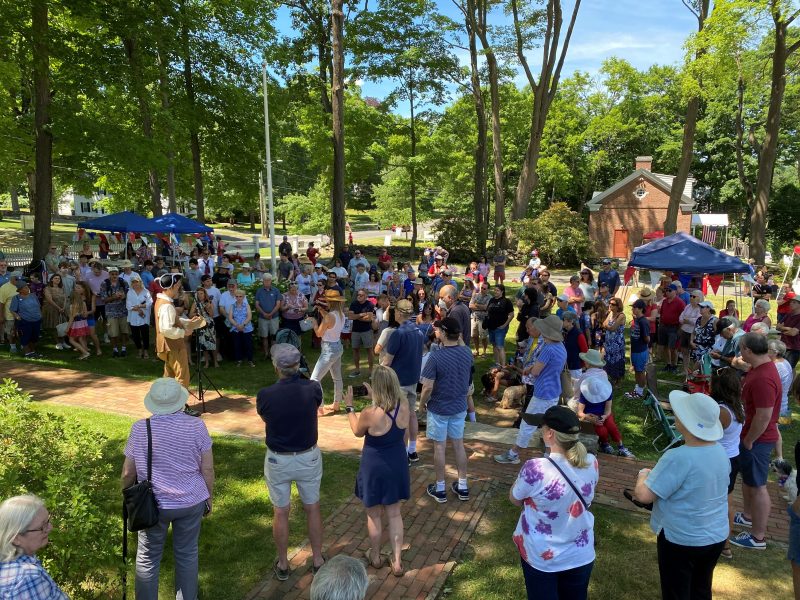 Ridgefield, Conn.— Celebrate community, independence, and the 57th anniversary of Keeler Tavern Museum & History Center's opening day on Tuesday, July 4th from 1 to 3 p.m.! This annual event is a fun and patriotic Ridgefield tradition, with activities for the whole family.
July 4th holds a spot of honor in the nation's history . . . and in KTM&HC's own site-specific history! On July 4, 1966, the museum opened its doors to the public for the first time, kicking off a decades-long commitment to preserving and sharing our site's history with the widest audiences possible. As recognition for the deeply appreciated community support that has sustained KTM&HC since that day, the museum opens its doors annually for an Independence-themed event each Fourth of July.
Visitors will find lots to do on our beautiful four-acre site, and exploring all our site has to offer is even easier this year, thanks to major site improvements that are transforming our four acres into a more accessible and cohesive experience. Parking onsite is plentiful, thanks to an expanded parking lot, and be sure to check out the beautiful new brick walkways that connect our historic buildings across the campus.
Admission for the July 4th Celebration is free, thanks to generous sponsor Pamby Motors! Discover the historic tavern museum at your own pace – experienced interpreters will be stationed throughout the building to answer questions.  Check out our new exhibit in the Gilbert Wing of the museum – Summering with the Gilberts: Leisure & Labor in the Early 20th Century explores life at the "Cannon Ball House" – so-called by the Gilbert family – in the early 20th century, with a focus on both the Gilbert family members and the staff, who were the driving force behind the home's operations. Enjoy family activities in the historic carriage barn and listen to live music on the tented terrace: progressive bluegrass by the always popular Angry O'Haras! Kids can pick up a sitewide scavenger hunt and participate in games and crafts on the front lawn, designed especially for younger visitors. And no one should miss the dunk tank, where visitors get a shot at dunking a costumed "King George III." Cool off with a delicious slice of free watermelon for all.
At 2 p.m., KTM&HC will join organizations and individuals throughout Ridgefield, the state, and the nation in a coordinated bell ringing: "Let Freedom Ring" is a long-standing tradition where groups ring bells 13 times at 2 p.m. on the Fourth of July to celebrate our country's freedom and independence. Following the bell ringing, there will be a dramatic reading of the Declaration of Independence, a reminder of the words and the promise that shaped our county.